RESUME
Adept at analyzing business requirements, communicating to facilitate understanding, and designing efficient, reliable, and creative software solutions.
Self-motivated lifelong learner with depth and breadth of knowledge from 14+ years of internet, business, and scientific software development experience, and 20+ years of healthcare experience.
Desires to continue technical career by focusing on research and development of Computer Game, Natural Language Processing, Machine Learning, Data Science, and Artificial Intelligence applications.
Download a PDF of this Resume.
---
🏢 Profile of Qualifications
Software Development of Accounting System: Develop and maintain ASP.NET C# MS-SQL internet application to automate record-keeping, appointment scheduling, receipt generation.
Research and Development: Continually investigate state-of-the-art ideas and software solutions to meet business needs. Recent projects involve Natural Language Processing and Understanding, Python, Deep-learning, Transformers, and Flask Web Development.
Website Chatbot: Design and configure NLP chatbot using Botpress software to answer customer questions written in natural language.
Game Prototyping: Acquire game development skills by researching and developing prototypes using game engines (Godot, Unity) and packages (Pygame).
Process Improvement: Maintain awareness of business processes. Review and update procedures on a regular basis with the goal to minimize errors and misunderstanding.
Windows Server Administration: Manage all aspects of a dedicated server to operate my company. Install and configure software to support business objectives.
Writing and Graphic Design: Create attractive products (books, card decks, courses) to communicate counseling principles and promote mental health.
Staff Development: Trained inexperienced counselors and administrative support staff.
Software Development of Clinical Trial System: Enabled end-user access to clinical data via IVRS and internet applications using ASP.NET C# MS-SQL. Translated business requirements (complex pharmaceutical algorithms to dynamically randomize subjects) into a reliable software application.
Team Leadership: Provided oversight of a small group of developers and test engineers to ensure software projects are built to specification.
---
🎓 Education
Master of Science in Computer Science   2022 - 2023
University of Illinois - Springfield, Illinois
GPA 4.0/4.0
Classes:
Deep Learning: Used Keras to learn Convolution Neural Networks (CNN), Recurrent Neural Networsk (RNN), and Natural Language Processing (Transformers, LSTM, BERT).
Machine Learning: Used R to run various algorithms (KNN, SVM, Naive Bayes).
Data Mining: Used Hadoop and Apache Spark to implement various mining algrithms (frequent pattern, classification, clustering, and outlier detection).
Graduate Research: Studied best practices for reading research paper and using citation. Wrote a literary review.
Unity Game Development: Completed a tutorial on how to develop a 3D game.
NoSQL: Toured various databases (CouchDB, Hadoop Hbase, MongoDB, Neo4J and Riak).
Introduction to Databases: Studied how SQL databases are designed from the file system level to its interface with the operating system.
Data Visualization: Use R, Python, and Seaborn to learn the best practices for visualizing data.
Master of Arts in Clinical Pastoral Counseling   1995 - 2000
Ashland Theological Seminary - Ashland, Ohio
GPA 3.75/4.0
Bachelor of Science in Computer Science   1989 - 1993
University of Illinois - Urbana, Illinois
GPA 4.4/5.0; 4.8/5.0 in CS
---
🏢 Professional History
Owner, Counselor, Software Engineer   2003 - Present
Senior Software Engineer   2001 - 2004
Senior Software Consultant   1995 - 2001
  Employed and assigned to client sites in Ohio (while working toward master's degree)
Software Consultant   1993 - 1994
  Motorola, Inc. - Austin, Texas
Undergraduate Research Assistant   1991 - 1993
  Computing Research Lab - Urbana, Illnois
---
📐 Skills
Expert in: Research, Analysis, Design, Communication and Understanding
Accomplished in: Python, Database Design, SQL, Object Oriented Programming, C#, C++, C, Perforce Configuration Management, IIS
Qualified in: Natural Language Processing, Machine Learning, Artificial Intelligence, Unity, Godot, Pygame, Flask, CSS, HTML, Bootstrap 5, Adobe AI, PS, ID
Skill
Python
Flask
C#
T-SQL
---
🎓 Certifications & Licenses
PCAP – Certified Associate in Python Programming   2021 - Present
Certificate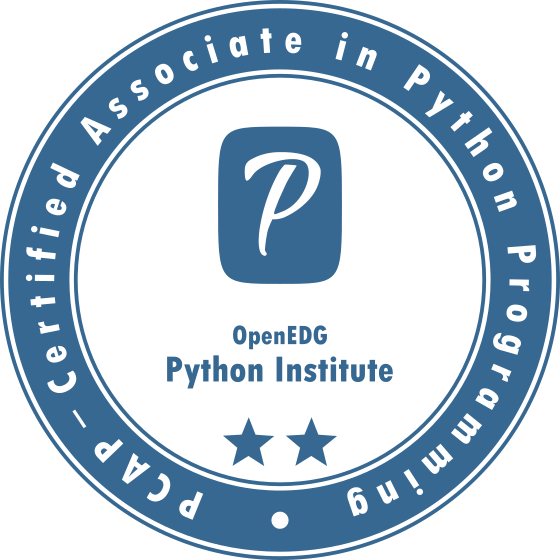 MBTI(R) Certified   2019 - Present
LPCC – Licensed Professional Clinical Counselor   2000 - Present
Recognized by the State of Ohio as a Licensed Professional Clinical Counselor (LPCC) with Supervisor status (S). Help a variety of clients (adults, adolescents, married, single) to grow personally and spiritually in areas such as marital conflict, depression, and emotional trauma. Provide supervision to other counselors seeking independent licensure.
---
🏁 Activities
Graduate Research Collaboration in NLP Models   2023
  Professor Elham Khorasani Buxton, University of Illinois, Springfield, IL
Personal
  Running, Watching Movies, Playing Board and Computer Games, Reading, and Writing